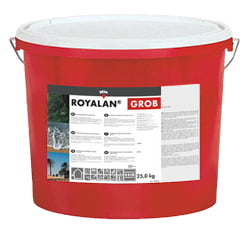 KEIM Royalan® Grob 5kg
Bridging coat for previously painted surfaces and filling of hairline cracks.
Covers around 25m² (one coat)
Primer & Filler
Fills Hairline Cracks
Bridges Painted Surfaces
Forms Chemical Bond
Product Details
KEIM Royalan Grob is a part of the KEIM Royalan paint system used as a bridging coat and primer to equalise previously painted surfaces and fill hairline cracks. It creates a permanent chemical bond to the substrate allowing a subsequent coats KEIM Royalan paint.
Preparation
All loose, flaking and unstable materials must be removed back to a sound edge; edges should be feathered in using sand or emery paper.
Ensure that any paint materials left remaining and the underlying substrate are sound and adhering well.
Any glossy or shiny surfaces should be thoroughly flattened down using sand or emery paper to create a good key.
Treat any surfaces affected by mould, fungal or lichen growth and kill algae spores.
All surfaces must be thoroughly washed down with clean cold water to remove all surface dirt and dust.
Application
After suitable preparation, the product can be applied by brush or roller. It requires at least 12 hours to dry before application of subsequent coats.
Refer to application of KEIM Royalan paint for specific directions on usage of dilution.
Technical
Coverage

5m² per Litre (approx.)*

Drying Time

12 hours (minimum)

Conditions

Must not be applied at temperatures below 5ºC nor those in excess of 30ºC, nor if it is raining, or if there is an immediate likelihood of rain.

Weight

5kg (approx.)
* Actual coverage will depend upon absorbency of the surface and method of application.
Downloads