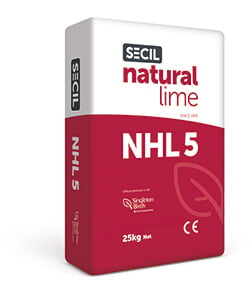 Secil NHL 5 - Natural Hydraulic Lime
Breathable
Powdered Lime
Dense Masonry
Severe Weather
Officially Distributed by Singleton Birch for United Kingdom
Product Details
Secil NHL 5 is a dry powdered hydraulic lime officially distributed by Singleton Birch. It is a breathable material that is harder therefore suitable for denser masonry exposed to more severe levels of wind driven rain.
This material is popular for paving, flooring, steps, roofing, coping stones and render in exposed areas.
Technical
Compressive strength

5 N/mm² ±

Specification

BS EN 459-1:2015

Weight

25kg (approx.)

Packaging

Paper Bag, Vented

Additional delivery packaging provided to protect product in transit

Shelf life

Up to 3 months §
(depending on storage)
§ The product must be kept dry, store in dry place, ideally inside. Ensure product is suitably protected if stored outside to prevent spoiling.