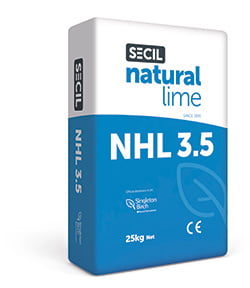 Secil NHL 3.5 - Natural Hydraulic Lime
Breathable
Powdered Lime
General Building Work
Heritage Building Material
Officially Distributed by Singleton Birch for United Kingdom
Product Details
Secil NHL 3.5 is a dry powdered hydraulic lime officially distributed by Singleton Birch. It is a breathable material suitable for heritage building work.
This material is popular for pointing, re-pointing and rendering, suitable for most building and construction applications under normal conditions.
Technical
Compressive strength

3.5 N/mm² ±

Specification

BS EN 459-1:2015

Weight

25kg (approx.)

Packaging

Paper Bag, Vented

Additional delivery packaging provided to protect product in transit

Shelf life

Up to 3 months §
(depending on storage)
§ The product must be kept dry, store in dry place, ideally inside. Ensure product is suitably protected if stored outside to prevent spoiling.