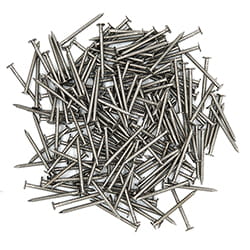 50mm Stainless Steel Ring Shank Nails
Lath Nails
Strong, High Quality
Stainless Steel
Covers 550ft laths
Covers 5.5m² laths (approx.)
Product Details
50mm Stainless Steel Annular Ring Shank Nails are recommended for fastening timber laths. These are high quality fixings with the strength and durability required to support a traditional lath and plaster wall.
Durability
Manufactured from austenitic grade A2 stainless steel, also referred to as 304 or 18/8 as it contains 8% nickel and 18% chromium. This material offers a level of hardness and consistent dimensional stability. It offers good resistance to wear and tear, will not rust and will not be affected by acid or high alkalinity present in lime as it cures.
Strength
The nails resemble screws (without the twist), the ringed shanks act like barbs providing excellent grip and permanent holding power.
The 50mm lengths extend well beyond the thickness of a 6mm lath anchoring firmly into the stud. This is slightly more than the 32mm anchor recommend to support a three-coat lime plaster which weighs in excess of 48kg per m².
Technical
Type

Annular Ring Shank

Material

Stainless Steel
Austenitic Grade A2
304, 18/8
8% Nickel, 18% Chromium

Length

50mm (2")

Diameter

2.65mm

Quantity

555 Nails (approx.)

Coverage

550ft (approx.)
5.5m² (approx.)

Weight

1kg (approx.)