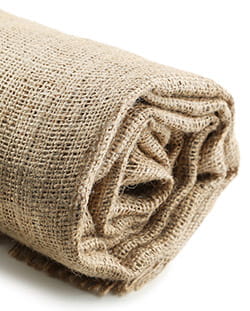 Hessian Sheeting
Size: 1.37m x 45m (4' 6" x 148')
High Quality Hessian for Protecting Lime Mortar
100% Natural & Breathable
High Quality Hessian
Versatile and Reusable
Prevent Shrinkage & Cracking
Product Details
Hessian sheeting is still used, as it was traditionally, to cover and protect lime mortar until it gains sufficient strength.
This is high quality, standard weight (183gsm / 6oz) hessian, the type that was most commonly used. It is most cost effective because it is most versatile.
It can be used as a single layer to increase coverage. It can be doubled over or even tripled as required if more protection and screening is necessary.
Protection
Lime mortar is at risk until it has adequate time to cure, in the meantime protection is critical:
Cold temperatures may cause the mortar to freeze.
Hot temperatures may cause it to shrink and de-bond.
Wind & sunlight can accelerate the drying process.
This leads to colour alterations (bleaching) and cracking (shrinkage).
Wet Curing
In temperatures above 10°C (with no risk of frost) wet curing is also recommended. The hessian sheeting is sprayed regularly with water to increase humidity and control moisture loss.
This process is known traditionally in the trade as "cherishing", the damp sheet provides the ideal curing conditions for lime mortar.
Guidelines
The length of time protection is required depends on the ambient temperature and is recommended as follows:
| Ambient Temperature | Protection (days) |
| --- | --- |
| >= 5° C | 56 |
| >= 10° C | 28 |
| >= 15° C | 14 |
Important: The same rules apply to lime mortar as standard building materials including cement mortar and concrete. It should not be placed in temperatures below 5° C.
Technical
Length

45m / 148' / 50 yards

Standard

183gsm / 6oz

Weight

12.5kg (approx.)