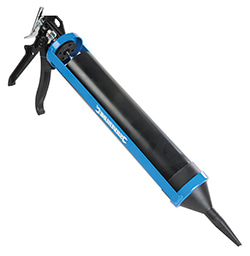 Pointing Gun Kit
Includes Barrel, 2 Nozzles and a Mortar Mixing Paddle
Suitable for Pointing 4mm to 12mm Joint Thickness
High Pressure Trigger Action
Hardened and Tempered Drive Components
* This product is only suitable for Gunlime mortars, other types of lime mortar we offer are not designed to flow through a mortar gun.
Product Details
This kit contains a robust 540mm mortar gun, mixing paddle, 300mm barrel and 2 nozzles that can be used to repoint joints between 4mm and 12mm thick.
Mortar Gun
The mortar gun is similar to a mastic gun with a high pressure trigger action producing the required thrust. It is made with hardened and tempered drive parts for durability.
Barrel
The 300mm plastic barrel will hold around 2kg of Gunlime mortar and slides in and out of the gun for filling.
Nozzles
Two plastic nozzles are supplied:
Large Nozzle
Supplied at 10mm, adjustable to 12mm diameter
Small Nozzle
Supplied at 2mm, Adjustable between 4mm and 8mm diameter
The nozzles are adjusted by cutting to the required diameter. They are appropriately marked and grooved so it's easy to cut to the correct size with a hacksaw or similar tool.
Mortar Mixing Paddle
The paddle can be attached to an electric or cordless power drill and used like a whisk to mix mortar in a builder's trug, Gorilla Tub, or bucket - a popular method of mixing mortar.
Longevity
The product is durable and can be used repeatedly providing sufficient care is taken.
Wash thoroughly with water after use. Ensure gun, barrel and nozzles are clean and completely free of any mortar and residue.
Lifetime Guarantee
The product is guaranteed for a period of 30 days from the date of purchase against a fault developing in the materials of the kit or the workmanship during manufacture.
Once received, you can register your product on the manufacturer's website for a lifetime guarantee, they offer to repair or replace faulty goods free of charge once the product is registered.
Working with Gunlime
The pointing gun kit works well with Gunlime products providing the gun is configured correctly.
It is important to select the correct nozzle and adjust appropriately. The diameter of the nozzle depends on the thickness of the joint and the texture of the mortar as follows:
Joint
Thickness
Product
Nozzle
12mm
Gunlime
with
Medium Coarse
texture
Large Nozzle
12mm
Cut nozzle at mark
10mm
Large Nozzle
10mm
As supplied
8mm
Gunlime
with
Fine
texture
Small Nozzle
8mm
Cut at 8 mark
6mm
Small Nozzle
6mm
Cut at 6 mark
4mm
Small Nozzle
4mm
Cut at 4 mark
Note: The small nozzle can be adjusted for odd size joints of 5mm, 7mm & 9mm. Simply cut between the marks provided on the nozzle; a fine texture Gunlime is required to point joints of this thickness.
Technical
Brand

Silverline

Material

Metal Plate / Rubber / Plastic

Gun

540mm

Barrel

70mm x 300mm
260g

Nozzle

72mm x 155mm x 72mm
260g

Mixing Paddle

85mm x 385mm x 85mm
235g

Weight (Total)

1.7kg (approx.)