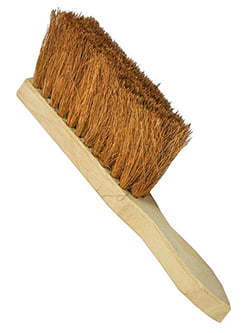 Soft Coco Brush
Hand Brush for Finishing Lime Mortar Pointing
Recommended for Lime Mortar Finishing
Ideal Stiffness for Compacting Joint
Maximise Vapour Permeability *
Natural By-Product from Coconut Harvesting
* Vapour permeability is maximised only when using this product in conjunction with recommended technique described below.
Product Details
This hand brush is a by-product from coconut harvesting, natural coco brushes are softer compared to other natural brooms and is perfect for finishing a traditional lime mortar.
Pointing Finish for Lime Mortar
The finish of lime mortar pointing is purely functional, it is not decorative. It can be applied when the mortar has "gone off" (stiffened).
Thoroughly stipple the surface with the soft coco brush, this will raise the aggregate to the surface of the mortar and will also compact the joint.
Do not finish the joints with trowels, brick irons or similar tools as this will increase the density of the joint surface, affecting its colour and reducing vapour permeability.
Technical
Length

275mm (11")

Weight

1kg (approx.)