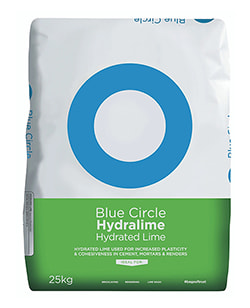 Blue Circle Hydrated Lime
Hydralime
CL90-S Hydrated Lime
BS EN 459-1 Building Lime
Product Details
Blue Circle Hydralime is a quality-assured BS EN 459-1 CL 90-S hydrated lime, with independent third-party certification and carries CE marking. Blue Circle Hydralime is used to improve the plasticity, cohesiveness and water retention of Portland cement mortars and renders.
Blue Circle Hydralime may be used with Procem, Mastercrete, General Purpose Cement, Ferrocrete, Snowcrete and Sulfacrete. Note that as Blue Circle Hydralime is non-hydraulic, it is not suitable for use in mortars and renders without a Portland cement.
Guidance on mortar and render mixes and their suitability for various locations and conditions is given in the following:
BS EN 1996-1-1: Eurocode 6 - Design of masonry structures
BRE Digest 362: Building Mortar
BSI PD 6678: Guide to the specification of masonry mortar
BS EN 13914-1: Design, preparation and application of external rendering and internal plastering.
A mortar of 1:1:5 to 6 (by vol) Portland cement:Blue Circle Hydralime:sand is equivalent to a 1:5-6 (by vol) Portland cement:sand + plasticiser in plasticity and strength.
Storage
As Blue Circle Hydralime readily absorbs moisture and carbon dioxide it should be stored in a cool, dry, draught-free building. Packs should be stored flat, clear of the ground and away from walls to avoid the possibility of condensation. This product should be stored in unopened bags and should be stacked in a safe and stable manner.
Conditions of use
Blue Circle Hydralime may not be used for general concreting, screeds or grout.
For mortars and renders Blue Circle Hydralime should always be mixed with cement and sand components.
The final finish quality of this material will depend on the operative having the required skills and a familiarity with the material and its application methods.
Normal site practice to the relevant British and European Standards should always apply. Tarmac Cement cannot be held responsible where workmanship has not been carried out in accordance with good practice.
Manual handling should comply with The Manual Handling Operations Regulations 1992.
Health and safety
Contact with Blue Circle Hydralime may cause skin irritation, respiratory irritation and serious eye damage. For further information refer to the appropriate Tarmac Cement Health and Safety Information Sheets.
Important
Blue Circle Hydralime is a "hydrated lime" and cannot be used to produce a lime mortar.
It is not a hydraulic lime nor is it a non-hydraulic lime putty.
It can however, be used to produce a hydraulic lime with the addition of a pozzolan.
Technical
Specification

BS EN 459-1

Weight

25kg (approx.)

Packaging

Paper Bag, Vented

Additional delivery packaging provided to protect product in transit

Shelf life

Up to 3 months §
(depending on storage)
§ The product must be kept dry, store in dry place, ideally inside. Ensure product is suitably protected if stored outside to prevent spoiling.