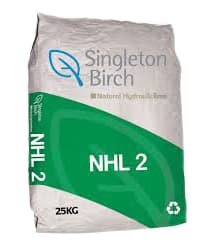 Singleton Birch NHL 2

Now available as Secil NHL 2.
The product is presented in different packaging but contains the same hydraulic lime inside.
Natural Hydraulic Lime (NHL 2)
Soft masonry, internal or sheltered locations
Sets underwater (feebly hydraulic)
Easy to use, powdered lime
Britain's leading independent lime manufacturer
Product Details
Singleton Birch NHL 2 is a dry powdered lime made by slaking quicklime from siliceous chalks. This material is suitable for soft masonry or internal, sheltered locations. It is popular for making hydraulic lime plaster.