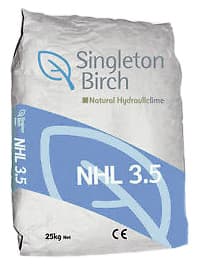 Singleton Birch NHL 3.5

Now available as Secil NHL 3.5.
The product is presented in different packaging but contains the same hydraulic lime inside.
Natural Hydraulic Lime (NHL 3.5)
Popular & suitable for most building work
Pointing, re-pointing & rendering
Brickwork, blockwork and stonework
Easy to use, powdered lime
Britain's leading independent lime manufacturer
Product Details
Singleton Birch NHL 3.5 is a dry powdered lime made by slaking quicklime from siliceous chalks. This material is popular for pointing, re-pointing and rendering. It is suitable for most building and construction applications under normal conditions.