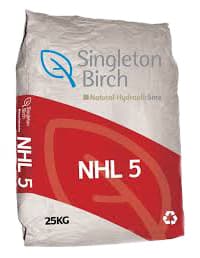 Singleton Birch NHL 5

Now available as Secil NHL 5.
The product is presented in different packaging but contains the same hydraulic lime inside.
Natural Hydraulic Lime (NHL 5)
Suitable for masonry exposed to severe weather
Paving, Copings, Chimneys, Canals, Sea fronts
Suited to dense masonry; granite, eng bricks
Sets underwater (eminently hydraulic)
Easy to use, powdered lime
Britain's leading independent lime manufacturer
Product Details
Singleton Birch NHL 5 is a dry powdered lime made by slaking quicklime from siliceous chalks. This material is stronger and more durable with a faster setting speed. Suitable for use with dense materials, exposed masonry and marine construction.