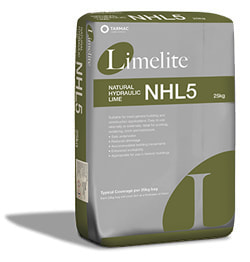 Tarmac Limelite NHL 5
Natural Hydraulic Lime
Breathable
Powdered Lime
Dense Masonry
Severe Exposure
Blue Circle's Heritage Range of Building Materials: No Cement or Additives
Product Details
Limelite NHL 5 is an eminently hydraulic lime suitable for use in masonry pointing, capping, foundations, seal defences and new build construction.
Tarmac / Blue Circle Limelite products contain no additives, mineral additions or Portland cement and are quality assured to EN 459-1: Natural Hydraulic Limes with independent third-party certification. They also carry a CE Mark.
Technical
Compressive strength

5 N/mm² ±

Specification

BS EN 459-1:2015

Weight

25kg (approx.)

Packaging

Paper Bag, Vented

Additional delivery packaging provided to protect product in transit

Shelf life

Up to 3 months §
(depending on storage)
§ The product must be kept dry, store in dry place, ideally inside. Ensure product is suitably protected if stored outside to prevent spoiling.