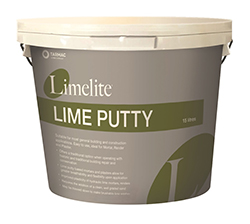 Tarmac Limelite Lime Putty
High Calcium, Fat Lime Putty
Creamy Consistency
Soft and Flexible
Matured for 4 Months
Blue Circle's Natural Range of Products: No Cement or Additives
Product Details
Limelite Lime Putty is used for mortars and plasters for optimum flexibility and breathability leading to better quality masonry construction and durability of buildings.
It is typically used for historic and traditional building repair and conservation.
Technical
Specification

BS EN 459-1:2015

Weight

22kg (approx.)

Bulk density

1,400kg/m³ (approx.)

Packaging

Plastic Bucket, Sealed

Shelf life

Indefinite Potentially §
Keep Sealed Airtight
§ Products must be sealed airtight in their packaging during. Material will stiffen over time when sealed but can be 'knocked up' back to a workable state.