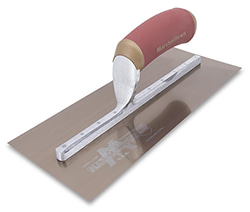 Marshalltown PermaShape® Finishing Trowel (11")
Golden Stainless Steel, Broken-In, Durasoft® Handle
Golden stainless steel
PermaShape® trowel maintains its shape
Broken-in, pre-bevelled blade
Xtralite® mounting, lightweight and durable
Comfortable and durable Durasoft® handle
Marshalltown, the benchmark in trowels
Product Details
The Marshalltown PermaShape® finishing trowel is suitable for applying lime plaster base coat and finish coat.
PermaShape® Finishing Trowel guarantees that your trowel will maintain its shape while ensuring a professional quality finish. The broken-in blade is ideal for both professional and beginner finishers who prefer a pre-beveled trowel for fewer lines and no break-in period.
Marshalltown is the standard by which all trowels are compared and has been the tool of choice for generations of professionals in the construction industry.
Technical
Brand

Marshalltown

Length

11" (279mm)

Width

4½" (144mm)

Weight

0.14kg (approx.)