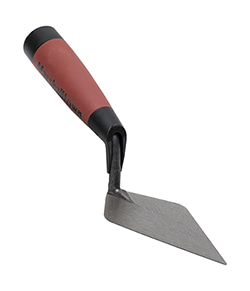 Marshalltown Pointing Trowel (6")
London Pattern, Durasoft® Handle
London pattern blade
Comfortable and durable Durasoft® handle
Forged from single piece of carbon steel
Heat treated for strength and durability
Tempered, ground and polished for flexibility
Marshalltown, the benchmark in trowels
Product Details
The Marshalltown pointing trowel is for reparing mortar joints, it is strong, flexible and durable.
This trowel has a 6" London pattern blade and Durasoft® handle for comfort and durability.
Marshalltown is the standard by which all trowels are compared and has been the tool of choice for generations of professionals in the construction industry.
Technical
Brand

Marshalltown

Length

6" (152mm)

Width

2½" (64mm)

Weight

0.14kg (approx.)