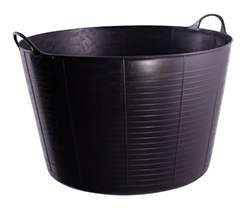 Recycled Black Gorilla Tub® Extra Large (75L)
Gorilla Tub® previously known as Tubtrugs®
Suitable for 25kg Lime Mortar
Flexible, Durable & Versatile
Working Weight 100kg
100% Recyclable and Eco-Friendly
Product Details
The famous Gorilla Tub® is flexible, durable and infinitely versatile; a staple on every building site.
This Extra Large 75 Gorilla Tub® has a 75 litre capacity which is perfect for mixing a 25kg bag of mortar. We recommend it for mixing Conserv® lime mortar, lime plaster, lime render when mixing by hand with a drill and paddle.
Red Gorilla® produce the original Tubtrugs® and Gorilla Tub®. Established over 35 years ago these products are renowned for their quality around the world.
Technical
Brand

Red Gorilla®

Volume

75 litre

Diameter

570mm

Height

370mm

Weight

2.1kg (approx.)