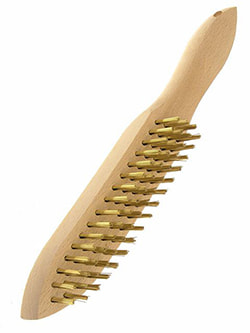 Brass Wire Brush
Remove Stubborn Dirt
Increase Effectiveness of Stone Cleaner
Does Not Mark or Discolour Stone
Suitable for Unpolished Stone
Product Details
The brass wire brush is extremely effective when used in conjunction with stone cleaners.
The stone cleaner will be applied first, leaving sufficient time to dwell. The brush is then used to agitate the surface, removing dirt and allowing the cleaner to penetrate deep into the pores of the stone.
The brass bristles are non-ferrous and will not mark or discolour the stone. A standard wire brush which will generally leave dark grey smudges and discolouring which is very difficult if not impossible to remove.
Not Suitable for Polished Stone
The brass wire brush is not suitable for cleaning polished stone such as marble, granite and travertine.
Technical
Weight

1kg (approx.)