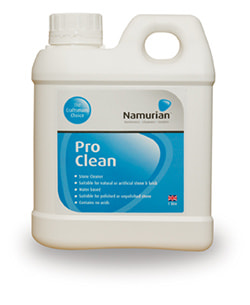 Namurian™ Pro Clean
General Purpose Stone & Masonry Cleaner
Kills and removes general dirt
General Dirt
Grime
Mud
Soil
Dirty Water
Cleans interior and exterior stone and masonry
Patios
Paving
Paths
Driveways
Kitchen Worktops
Kitchen Floors
Gravestones
Statues and Sculptures
Suitable for most kinds of stone and masonry
Sandstone
Indian Sandstone
Chinese Sandstone
Limestone
Slate
Green Slate
Blue Slate
Welsh Slate
Travertine
Marble
Granite
Flint
Natural Stone
Artificial Stone
Brick
Paving
Block Paving
Concrete Paving
Concrete
Tarmac
Not Suitable for
Product Details
Namurian™ Pro Clean is a general cleaner, suitable for professional, commercial and domestic use. It is water based, containing no harmful acids. It removes general dirt and grime from most types of stone and masonry.
How to use Namurian™ Pro Clean
This product is easy and safe to use given straightforward care and precautions are taken (see accompanied Safety Data Sheet). It comes with clear instructions, it can be applied with a brush, sponge or roller.
Technical
Coverage

8 - 10m² (approx.)*

Weight

1.2kg (approx.)
* Actual coverage depends upon severity of staining, absorbency of the stone and the method of application.