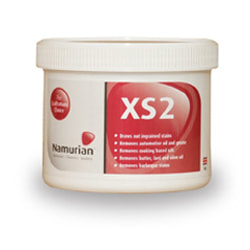 Namurian™ XS2
Oil and Grease Stain Remover
Poultice Type Stain Remover
Draws Out Ingrained Stains
Removes Automotive Spills
Removes Tea and Coffee Stains
Removes Barbecue Stains
Covers 9cm² @ 2mm Thick*
Polished & Unpolished Surfaces
Removes ingrained oil and grease stains
Engine Oil
Automotive Grease
Axle Grease
Sunflower Oil
Olive Oil
Fat
Lard
Butter
Margarine
Barbecue Spills
Indoor and outdoor stone and masonry
Kitchens
Gardens
Patios
Flooring
Paving
Paths
Garages
Driveways
Suitable for most kinds of stone and masonry
Sandstone
Indian Sandstone
Chinese Sandstone
Limestone
Slate
Green Slate
Blue Slate
Welsh Slate
Travertine
Marble
Granite
Flint
Natural Stone
Artificial Stone
Brick
Paving
Block Paving
Concrete Paving
Concrete
Not Suitable for
Product Details
Namurian™ XS2 is a professional grade poultice based stain remover all natural and artificial stone surfaces or brick. Also suitable for polished and unpolished surfaces.
Technical
Coverage

Covers 9cm² @ 2mm Thick (approx.)*

Weight

0.5kg (approx.)
* Actual coverage depends upon severity of staining, absorbency of the stone and the method of application.