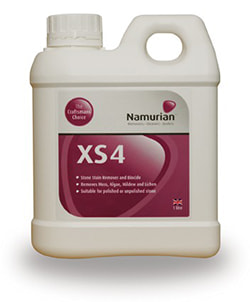 Namurian™ XS4
Moss, Mould, Algae & Lichen Remover
Kills and removes biological growth and dirt
Moss
Mould
Mildew
Algae
Fungus
Lichen
Black Spot
Black Lichen
Green Lichen
Red Lichen
Cleans exterior stone and damp masonry
Patios
Paving
Paths
Driveways
Roof Tiles
Ridge Tiles
Roof Eaves
Fascia Boards
Garden Walls
Garden Ornaments
Gravestones
Statues and Sculptures
Bathroom Tiles
Showers
Wet Rooms
Cellars
Damp Floors
Damp Walls
Suitable for most kinds of stone and masonry
Sandstone
Indian Sandstone
Chinese Sandstone
Limestone
Slate
Green Slate
Blue Slate
Welsh Slate
Travertine
Marble
Granite
Flint
Natural Stone
Artificial Stone
Brick
Paving
Block Paving
Concrete Paving
Concrete
Tarmac
Not Suitable for
Product Details
Namurian™ XS4 is the must have cleaner for exterior stone and masonry such as patios, paths and driveways. It also works brilliantly in the bathroom, shower or wet room. Biological growth is the most common problem you'll experience with stone and masonry that's outdoors or in damp conditions.
The general dirt you'll see is often attached to microscopic organisms embedded in the pores of stone rather than the masonry itself. This cleaner removes moss, mould, algae, lichen, black spot, dirt and grime with ease - the dirt goes with it returning the stone to its original appearance.
How to use Namurian™ Pro Clean
Namurian™ XS4 is designed for ease of use but please read product data and safety data sheets completely and carefully before using the product. Remember this product is chlorine based but is also safe to use given the required care and precautions are taken (see accompanied Safety Data Sheet).
It is the user's responsibility to ascertain the suitability of the product thus assuming liability thereof. We strongly advise that you test the product in a small and inconspicuous area to determine suitability.
1 Apply
Apply the cleaner to the masonry in dry weather until it is well saturated using a brush, sponge, roller or low pressure spray. This typically consumes between 125-200ml per m² but will vary depending on the method of application, porosity of the masonry and the extent of organic growth and dirt.
2 Leave
Leave the cleaner to dwell on the surface of the masonry for 10 minutes. If there is deeply ingrained growth and dirt then agitate the surface using a bronze, bristle or nylon brush and leave to dwell for a further 10 minutes. Longer dwell times of up to 2 hours may achieve better results and can be trialled in an inconspicuous area.
3 Rinse
Rinse the masonry well with cold, clean water. You'll typically require 10 litres of water per m² of masonry to thoroughly rinse and neutralise the cleaner. A garden hose or pressure washer is strongly recommended for cleaning large areas.
... Repeat (if required)
This simple 3 step process often restores masonry to its original condition first time around. However, with more extreme growth and pitting you may need to repeat the process to achieve the desired results. It may also prove beneficial to experiment with alternative methods of application, dwell times and tools to scrub and rinse the surface.
Technical
* Actual coverage depends upon absorbency of the stone and the method of application.
** Biological growth generally builds up during winter and depends on humidity and surrounding environment.
Work Safely
Avoid contact with skin. Wear eye protection, rubber gloves and waterproof footwear while using this product.
This product contains chlorine and may discolour clothing, wear appropriate garments.
Keep out of reach of children.
Care required using this product in close proximity to vegetation.
Caution required using this product in areas accessible to pets, wildlife or in proximity to ponds with aquatic life.