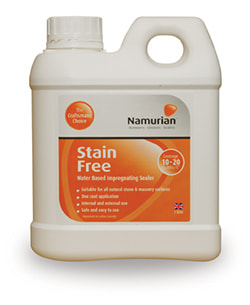 Namurian™ Stain Free
Stone and Masonry Sealer with a Light Satin Finish
Suitable for most kinds of stone and masonry
Sandstone
Indian Sandstone
Chinese Sandstone
Limestone
Slate
Green Slate
Blue Slate
Welsh Slate
Travertine
Marble
Granite
Flint
Natural Stone
Artificial Stone
Brick
Paving
Block Paving
Concrete Paving
Concrete
Not Suitable for
Product Details
Namurian™ Stain Free is a breathable, water based stone and masonry sealer / impregnator with a satin finish. This sealer penetrates into the surface of the stone to protect against oil and water based stains. It can be applied to grout, travertine, tumbled marble, limestone, slate, quarry tiles, sandstone and all types of masonry surfaces. UV resistant.
Technical
* Actual coverage depends upon severity of staining, absorbency of the stone and the method of application.
** Durability of the sealer depends upon maintenance, wear and exposure to sunlight, wind and rain.