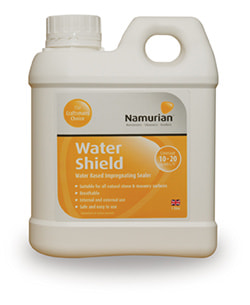 Namurian™ Water Shield
Invisible Stone and Masonry Sealer
Suitable for most kinds of stone and masonry
Sandstone
Indian Sandstone
Chinese Sandstone
Limestone
Slate
Green Slate
Blue Slate
Welsh Slate
Travertine
Marble
Granite
Flint
Natural Stone
Artificial Stone
Brick
Paving
Block Paving
Concrete Paving
Concrete
Not Suitable for
Product Details
Namurian™ Water Shield is a breathable, UV resistant, impregnating stone and masonry sealer that protects masonry from weather and staining. This sealer does not alter appearance of stonework, it is 100% invisible once dry.
Technical
* Actual coverage depends upon severity of staining, absorbency of the stone and the method of application.
** Durability of the sealer depends upon maintenance, wear and exposure to sunlight, wind and rain.