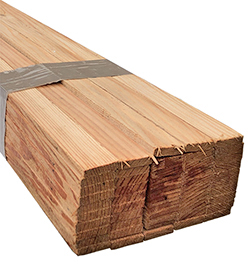 Sawn Larch Laths
4ft Lengths, 1" x ¼" Sections
Durable Larch Timber
Sawn, Easy to Fix
Most Cost Effective
Covers 2m² (approx.)
Product Details
Sawn larch laths are supplied in bundles containing 4' (1.22m) lengths. They are used to build traditional lath and plaster walls, they can also be used to replace laths in damaged areas of an old wall.
Sawn Laths
The laths are cut from straight grained timber producing longer, stronger units. Sawn laths have the added benefit of being both easier and faster to fix than their riven counterparts thanks to their machined, uniform length and profile.
Lath and Plaster Walls
Timber laths are an ideal background for lime plaster, they provide a good key and form a gauge that keeps the plaster relatively even. They also help prevent shrinkage cracking when applied correctly.
Fixing
The laths are fixed horizontally to the wall or studs, typically with 10mm spacing between them. The gaps between must not exceed twice the largest particle size in the plaster base coat.
Traditionally fixed using stainless steel ring shank nails, these remain the best method for fixing laths manually. These stainless steel nails will resist chemical attack from timber containing resin (larch) and tannin (oak, chestnut) and from the lime binder in the plaster.
We recommend 40mm - 50mm lengths which extend sufficiently beyond the lath into the stud, the ring shank ensuring a firm anchor. This provides the secure and permanent grip required for a traditional 3 coat lime plater system (typically weighs 48kg per m² or more).
Preparation (Important)
Timber laths must be completely saturated when fixed, they will shrink and pull tight as they dry out. This requires the lengths are fully immersed in water for at least 7 days (although longer is better) up until the point of fixing.
The laths must be soaked through again (typically with a nap sack sprayer) 2 hours before plastering work proceeds. Plastering onto wet laths helps prevent cracking, otherwise, dry timber would suck the moisture rapidly from the lime plaster as it is applied.
As the laths were saturated initially when fixed, they simply expand back to their original position rather than buckling and failing as is common when laths are fixed dry.
Larch is a tough, hard pine.
The timber contains natural resin to varying degrees but it soaks well and does not contian tannins. There is no risk of staining as is the case with oak and chestnut.
Larch remains an excellent choice for laths. It is economical and performs well, striking a good balance between cost, durability and ease of application.
Technical
Species

European Larch
Larix decidua

Type

Sawn

Section

1" x ¼" (26mm x 6mm)

Unit Length

4' (1.22m) (approx.)

Quantity

50

Total Length

200ft (60m) (approx.)

Coverage

2m² (approx.)

Weight

15kg (approx.)
‡ Density of timber may vary up to 20% ± depending on moisture content and other factors.